Hell week is long past. I can ALMOST kindof coast through the rest of the year. I just need to get another paper done and handle finals. And today I finallllllyyyy got my permit. I am proud. I started dancing at the registration desk. Oh yeah. Do the get-busy!
All-state wind ensemble was asdf;kljasd;fkljasdkl;fasdl;fk absolutely amazing; one of the most inspiring experiences of my life. I love PMEA! Just the fact that we can participate in music festivals for free makes me love PMEA and...just America in general. I am usually not very patriotic, but wow. This made me realize that I definately want to go into music. Now I need to practice two hours a day. At least. I'm not sure how happy I am about that, but the end will justify the means, so they say oh so they say. Musicians are ridiculously attractive; there was a nice trend in tasteful sideburns and red hair. Mmm gotta love it.
Before states, I finished Mr. Verde the frog;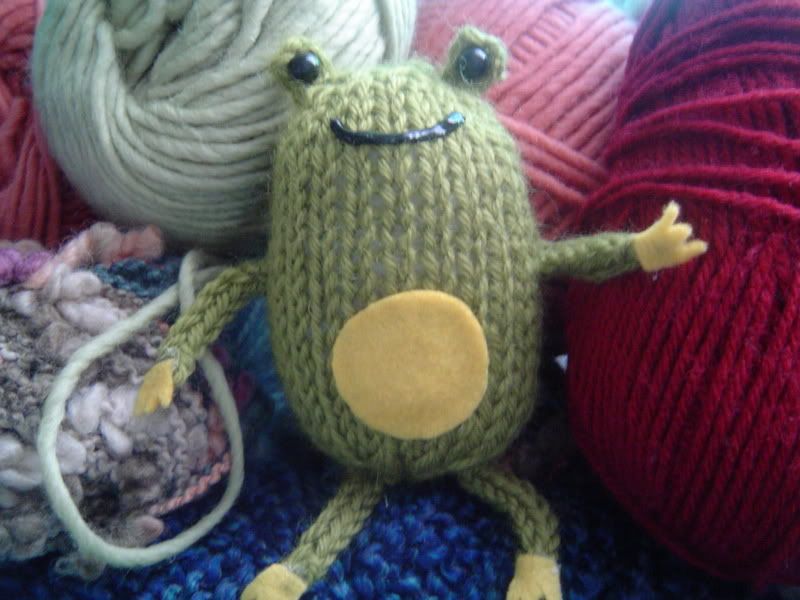 Here's a kindof sortof pattern...
Mr. Verde the FrogMaterials;
- skien lion wool in a green color (any scrap worsted weight would work too)
-size 8 double-pointed needles
-black eye buttons or beads
-black fabric paint
-1 sheet yellow felt
-small amount of fiberfill
-tapestry needle
-sewing needle & matching thread
Body
CO 3 sts and join into round
Increase each stitch around (6 sts)
Knit round
Repeat first round (12 sts)
Knit round
Repeat first round again (24 sts)
Now knit each round (so it forms stockinette) until piece measures 4 inches. Now stuff the body with fiberfill. Continue to stuff the body as you finish knitting it in the next few rounds.
K2tog across round (12 sts)
Knit round
K2tog across round (6 sts)
Knit round
K2tog across round (3 sts)
Cut yarn and thread through remaining sts; tie a knot.
Legs (make four)
Make an i-cord that is about 2 inches long.
Eyes - make two
CO 3 sts
Knit 1 st, increase middle st, and knit last st. (4 sts)
Knit row
Bind off.
Finishing
Cut an oval the size of his belly out of the yellow felt and stitch into place. Cut 4 small feet out of the felt, and stitch to one end of each i-cord. Sew the i-cord legs in place, the knitted eye socket things on the top of his head, and then sew the black eye buttons in them. Finally, paint on a smile with the fabric paint and lay Mr. Verde down to dry. Here's a visual, because I know this wasn't a very good explanation;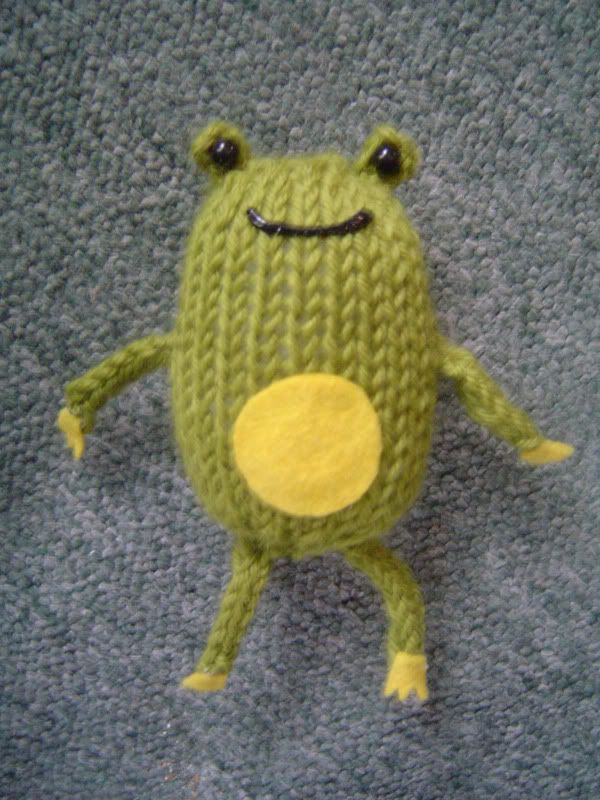 Enjoy your froggy friend!