"Strapping young lad." There is nothing like those three words. Indeed, any of these words without the other two are meaningless. The three must combine and blend to form the most perfect of males.
Here is Trevor Lewington and Brian Buchanan of Enter the haggis sporting their amiable qualities.
Note their adorable and slightly silly smiles. What you can't see are their pleasantly pleated kilts- a must have for strapping young lads of all ethnicities.
As you can see, the world would be at a loss without fine young men such as these. In their honor, I have designed a bag for all the strapping young lasses of the world. Or lads, if they so desire. But the lasses are equally important to the world and deserve a bag that matches their personality.
Strapping Young Lad Bag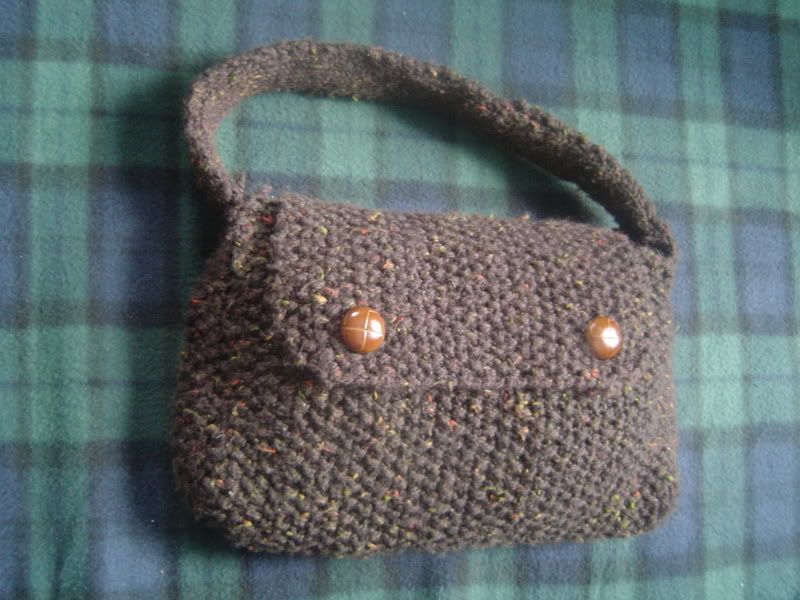 Materials
2 skeins Paton's Shetland Chunky Tweed
Size 10.5 straight needles
Tapestry needle
A fat quarter of fabric for lining
2 leather buttons
2 snap closures
sewing needle and brown thread
Pattern
Body
-Cast on 36 stitches
-Work in seed stitch until piece measures 17.5 inches. (weird number, I know)
-Cast off.
Flap
-Pick up 30 stitches alongside one of the shorter sides of the body (i.e. the row you just cast off) Leave a three-stitch margin on either side, so that the stitches you are picking up are centered (your flap won't be as wide as the body, obviously.)
-Work in seed stitch until the flap is 4 inches long.
-Knit 2 together, work rest of row in seed stitch until the last 2, and knit 2 together.
-Repeat this last step 3 more times. (22 stitches)
-Cast off, not too tightly.
Strap/Sides
-Cast on 10 stitches.
-Work in seed stitch until the piece measures about 30 inches. (You can make the strap as long or as short as you want.)
-Cast off.
Assembly
Ok, this part is a little ambiguous. I lined the strap with another piece of knitting to make it sturdier. I think I cast on 10 stitches on size 6 needles (for a ridiculously tight gauge) and knit until it measured the length of the actual handle part (not including about 8 inches from each end of the piece that will serve as the sides of the bag). You can also just line it with fabric.
Now fold the body in half, and sew about 7 inches of strap along each open side to serve as the sides of the bag. (If you need more clarification on this, let me know haha.) Sew on the buttons (which are actually purely for decoration), and sew snaps underneath them (which actually serve a purpose). I did this because I wasn't sure where exactly I wanted to put the buttons on until I was finished. I used metal snaps, but you can use magnetic, Velcro, whatever. I know you are creative. Line the bag and you're done!
Let me know if you have any questions or comments because I know I'm not the best explainer in the world. Enjoy!